St Joseph's Parish Hall
Our Parish Hall is situated within the church grounds. Because of it's central location and ample parking area, it is a convenient meeting place for many local organisations. The Hall is correctly equipped for the disabled, and is let at a reasonable hourly rate. It is currently used by charities helping the sick and disabled, by groups concerned with adult education, music,senior citizens, counselling and various indoor sporting activities.
When not in use for Parish events, the Hall is let for private functions, and has a capacity for 120 persons. The Hall has a fully equipped kitchen and a separate tea bar but is not licenced to sell alcohol.
For all hall enquiries please contact Anne Paice, on 01635 44828, (evenings only) or Fr Pat on 01635 40167 or by email parishpriest@stjosephsnewbury.org.uk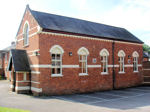 St. Joseph's Parish Hall
Click image to enlarge

to view more pictures of the Parish Hall